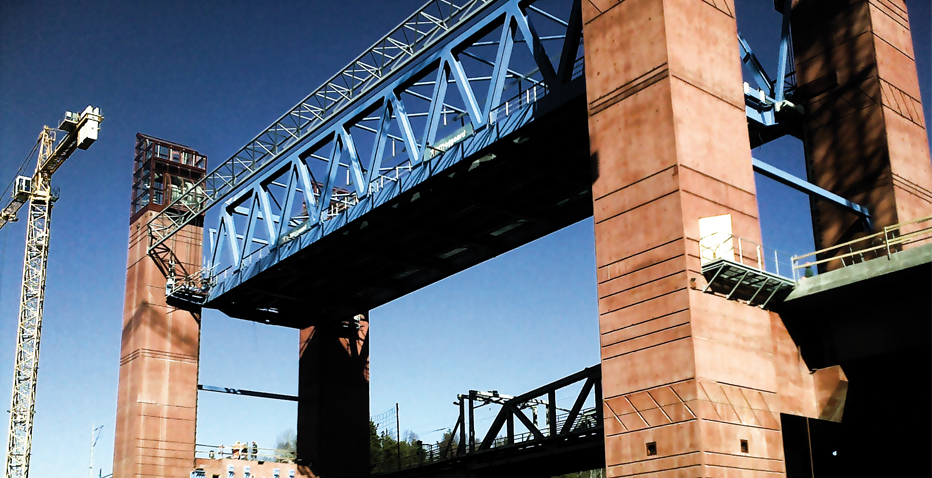 Stable, secure 24 V DC circuits delivered by the LÜTZE LOCC-Box
The new Södertälje RAILWAY BRIDGE in Sweden
The bridge builder MT Hojgaard AS and the Swedish Central Railway Agency were planning a 230 m long railway lift bridge with flexible lift height between 26 and 41 m for the Södertälje Canal. The goal with this new bridge was to cross the important shipping connection between Lake Mälaren and the Baltic Sea.
Finally, the order was granted for the construction and installation of all supply and control cabinets as well as for the programming of a PLC/Scada system for bridge control. LÜTZE's Swedish partner OEM Automatic was incorporated in an early phase due to its extensive product line and its highly-specialised personnel; it was able to contribute numerous technical solutions and expertise with respect to the selection of the right components for the application.
New solutions for safe functioning
"For 20 years, we have focused on movable bridges, but this project posed new technical challenges," says Krister Augustsson, Managing Director of Elbro Teknik, the planning company on-site. What was new about this lift bridge was that it was supposed to be lifted on all four corners; this required new solutions for safe functioning.
"In addition to expertise, the 100% reliability of OEM and its partner LÜTZE when it came to support and reliable delivery was extremely important". Augustsson continues, "and are indispensable for such a large project, during which some difficulties and acute problems are always bound to arise, problems which must be solved quickly and efficiently".
Safe 24 V direct current circuits
For the fuse protection of the 24 V direct current groups, the planners selected LOCC-Box electronic current monitoring from LÜTZE. It offers many advantages; among other things, the LOCC-Box is safe with longer cable lengths without affecting other groups; thus, greater selectivity and faster troubleshooting are guaranteed. In addition, a rated current of 1 to 10 A can be set, and there are five different characteristics to choose from. This prevents inadvertent triggering, for example due to high initial currents. The supply is handled using a power supply terminal and the 24 V direct current is distributed across all LOCC-boxes using copper rails. Each LOCC-Box can be disconnected from the rail in order to create a visible disconnection. The alarm output emits a signal in case of faults and several LOCC-boxes can be connected for a collective alarm.
In short, these components were ideal for the safe operation of the newly-constructed Södertälje lift bridge, which has now been finished and is performing its service reliably.