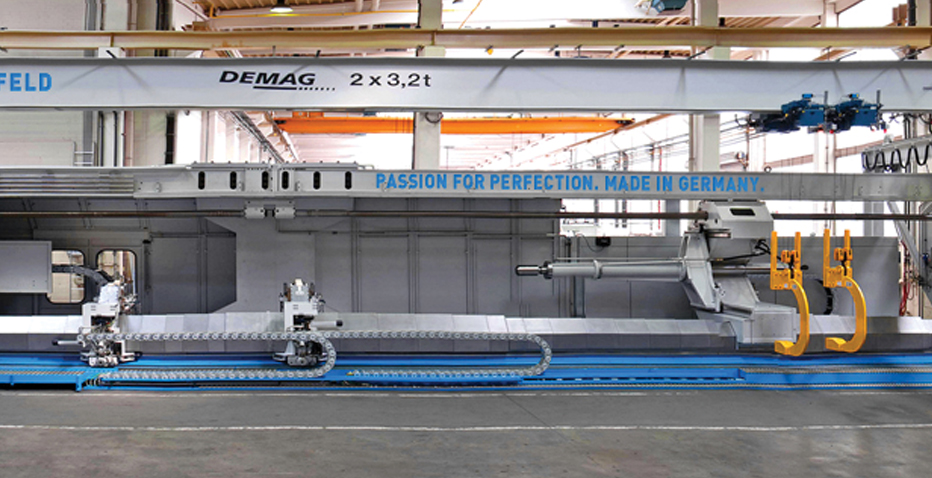 Machine produced in record time using LÜTZE cable assemblies and LOCC-Box
Product range:
Cable
Connectivity
Control
Rapid LÜTZE solutions for longest gear-forming spinning machine in the WorldAfter submitting a quotation, the machine tool manufacturer Leifeld emerged as the winner of an international invitation to tender to build the World's largest gear-forming spinning machine. The 30-metre long giant weighing 200 tonnes had to be designed and constructed under enormous time pressure – with installation technology and cable assemblies from LÜTZE.
The sheer size and magnitude of this machine alone is impressive. However what is even more remarkable: This traditional company specialising in chipless metal forming has managed for the first time to flow form tubes measuring more than 15 m in length. (For those interested in the details: up to 9 m using forward flow forming and 15 m and more using reverse flow forming).
This ultra-modern stretch-forming spinning machine was commissioned by a subsidiary of a large Chinese corporate group – and the entire project had an extremely tight deadline of just ten months. Leifeld Metal Spinning AG and its suppliers were under a great deal of pressure to perform. To manage this Herculean task, Leifeld's engineers developed new strategies, concepts and detailed solutions.
Major suppliers were closely involved right from the start. This included LÜTZE who supplied Leifeld with installation technology and cable assemblies within the extremely tight planning and installation timeframe. LÜTZE also displayed the expected competence in developing innovative customised solutions and meeting exceptionally short delivery times as required when supplying accessories.
"How long should the cable be?" The answer to this question was not always available at certain stages during construction. In this case, LÜTZE responded with the intelligent and pragmatic solution of fitting just one end of the cable with connectors – the connectors for the other end were left in plastic bags and sent with the cables. Leifeld fitted a total of four different types of LÜTZE products into this giant machine: besides cables and cable assemblies, a power supply unit and the LOCC-Box power monitoring system are also onboard.
The Demag Cranes & Components company was another partner working on this project. An overhead crane with a 9.4 metre long track was installed to safely handle the long tubes. It carefully and precisely unloads the transported goods on the machine – this also uses cabling from LÜTZE.