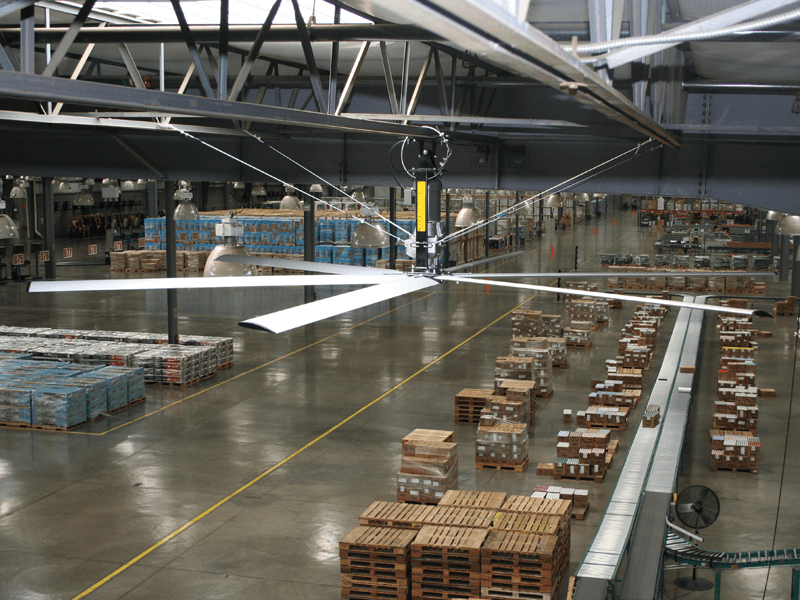 LÜTZE bus cables provide fresh air in large halls
Product range:
Connectivity
Control
Magnovent is a company that specialises in industrial ventilation and energy efficiency. Its large ceiling fans shift enormous quantities of air using a minimum of energy, thus achieving optimum temperature distribution and saving on heating and cooling costs. An ideal and contemporary solution for efficient air conditioning, in keeping with the SkyBLUE philosophy - sustainability from LÜTZE.
These fans use HVLS (High Volume, Low Speed) technology, which allows a rapid turnover of air in closed halls. The fans have a maximum consumption of 1.6 kWh, but their blade design (1.82 m – 7.32 m) allows them to shift much more air than conventional ceiling fans.
In large, heated buildings with high ceilings, there is usually a temperature difference of 1 °C per metre between the floor and the ceiling. The fans push the warm ceiling air back down, increasing the temperature at ground level. When used together with other heating systems, they can generate energy savings of up to 45 %! The large fans provide an even distribution of air without the need for expensive piping.
Thanks to the condensation effect on the skin, the Magnovent fans provide a cooling effect of 2 °C to 6 °C in summer. Together with air conditioning systems, they also help to circulate cool air and generate huge savings by amplifying the temperature generated by the thermostat.
All fans possess a "reverse" function which can be used to channel moist or overheated air out through the roof of the hall. Furthermore, a central tactile control unit is available. This can be connected to a fire alarm system using customised software, which monitors the corresponding operation times, temperature curves and other aspects of up to 64 fans.
This is exactly where LÜTZE and its products help with the installation of sustainable systems. Perfect data connection play a key role in this system. LÜTZE network cables provide a high-quality, reliable solution. Specifically, the frequency converters for the individual fans are controlled by the central control unit. The BUS cable used in this system is the LÜTZE ELECTRONIC BUS (Art.-Nr.: 104207) or, if the owner wants a halogen-free version, the variant with a PUR outer jacket (Art.-Nr.: 104208).
Delivery for the LÜTZE products used in previous projects was extremely quick and flexible. The cable was sent directly from the LÜTZE warehouse to the end customer's construction site, right on time for the start of cable field installation. This meant there was no need to transport the cable back and forth across the site.
With this application, LÜTZE has a presence in the exact areas where sustainability and energy savings directly benefit the customer – in keeping with the SkyBLUE philosophy.
Eloi Gomez, LÜTZE Spain