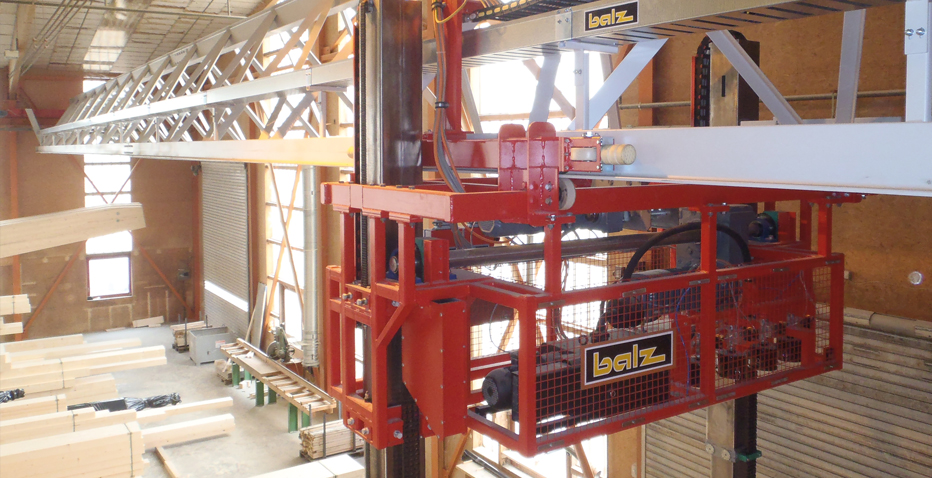 High speed transfer wit LÜTZE Superflex®
Since the company was founded in 1834, i.e. 180 years ago, Balz has been involved in the processing of natural products.
At first, the products processed were mainly made of leather; since 1861 this spectrum developed to include wood, and also machines and systems for the processing of wood in various shapes and packagings. Today, Balz Management is run by the fifth family generation, and the company produces various handling systems for sawn timber across an area of 20000 m2. The company is renowned internationally in the timber industry, as the tried and tested Balz machines have been successfully used amongst other things to stack, package, cut and sort sawn timber for decades both within Europe and overseas.
A universal robot mounted onto a steel bridge forms the core of the system, which has a movement range of over 26 m. The so-called vacuum beams are mounted onto a lowerable square steel profile. This prevents the transport goods from pivoting, meaning that the vacuum gripper can turn easily, and partial or full automation are easily possible.
The impressive thing about these systems is the completely smooth approach and the high traversing speeds: longitudinal or transverse; the Balz crane traverses at 120 m/min, and lifts at 30 m/min. This results in accelerations of up to 1.5 m/s2! This places maximum demands on the cables, as they have to withstand high forces, accelerations and narrow bending radii permanently and reliably. The rough conditions in the open halls of the sawmills, with their severe fluctuations in temperature and large quantities of dust, must not hinder operations. Balz decided on the use of the tried and tested LÜTZE SUPERFLEX® cables for this and similar applications.
An experienced partner of Lütze AG for C-tracks determined the dimensions, characteristics and packaging, and delivered these completely assembled to Lütze AG, who equipped the C-tracks with the pre-fabricated cables. In this way, Balz was supplied with a module (consisting of only one part number) which was ready for installation and ready for use.
Photos: Balz Maschinen AG/ CH-3550 Langnau i.E.