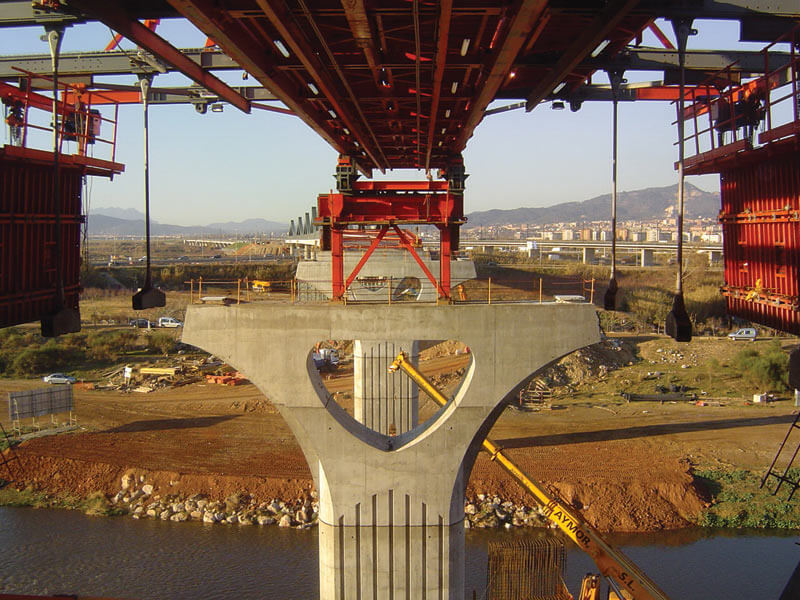 Heavyweight power lifters supplied by LÜTZE
INGENIA SISTEMS develops electrical solutions for the automation of hydraulic systems, in particular in bridge construction when systems with lifting and shearing forces are required.
One of their main customers is Enerpac, market leader in the manufacture of such devices and their instrumentation. They develop and manufacture the central control unit of the hydraulic system as well as the position and stabilisation cylinders, supplying the most important construction and civil engineering companies.
Last year, INGENIA SISTEMAS developed a versatile synchronised lifting and support system for ENERPAC. The system is used in Australia for infrastructure construction projects and road maintenance in an area of over 7 million km².
The lifting gear controlled by INGENIA SISTEMAS consists of two hydraulic systems, each with 10 cylinders, which can act individually or as an overall system with a total of 20 cylinders. Monitoring is carried out by 2 switchgear cabinets and 3 control panels. Three-phase SMPS from LÜTZE were selected as power supply units in the 24 V range, whilst robust LÜTZE relay components were used to control contactors and exchange signals. The control unit is a high-output PLC, which carries out the synchronisation of the lifting operation and the optimum distribution of the ultra-heavy loads. This is necessary to prevent material deformation, twisting or even breakage of the part to be moved. The balance of these loads is maintained by distributing the weight evenly on all the cylinders whilst keeping the centre of gravity constantly in the same place during the entire lifting operation.
A technical plus is that the entire system can be configured and controlled from any location via remote maintenance. This produces the following options:
System operation via Internet/Intranet.
Polling and management of the system files.
Download and overwriting of the configuration data via Internet/Intranet.
Martin Brinkmann, LÜTZE Spain