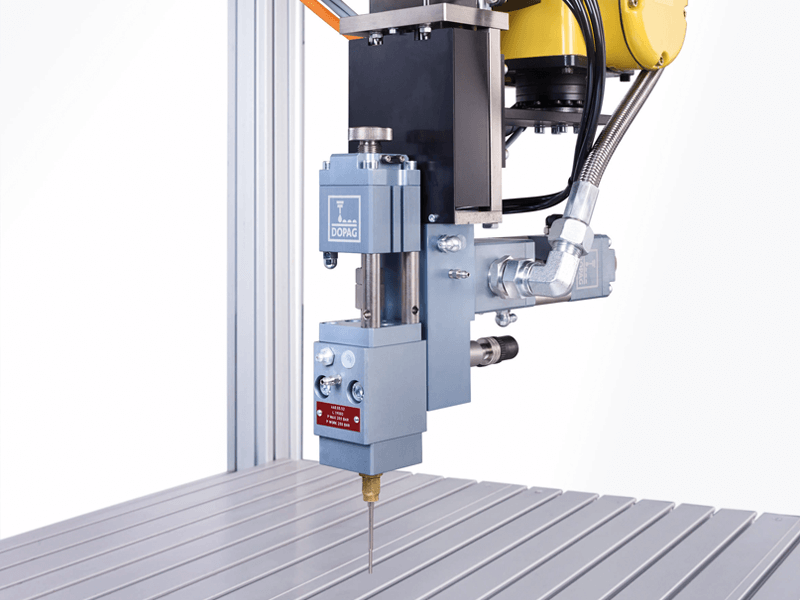 Efficient control cabinets for high performance automatic metering
With its workforce of over 250 employees, the Hilger and Kern / Dopag Group is one of the world's largest manufacturers of dosing and mixing systems. These are used for processing multi-component polymers and 1K media such as grease, oils and adhesives.
The Group, which has subsidiaries and distributors in more than 30 countries, has been developing and building customised systems and individual components for more than 35 years.
The company DOPAG Dosiertechnik und Pneumatik AG has a workforce of around 70 at its headquarters in Cham / Switzerland. Standard components and systems, and also customised dosing and mixing systems, are developed and produced at this site for a range of international customers.
The Hilger u. Kern / Dopag Group has developed two new product lines, metadis and metamix, for processing low to highly viscous or even abrasive materials.
The modular structure of metadis and metamix allows a wide range of applications. Application options for these modern dosing systems are found wherever media needs to be discharged extremely precisely and repetitively, e.g. the automotive industry, the electric and electronic industry, renewable energies, aerospace, manufacturing of white goods and lots more.
The company DOPAG uses the proven, duct-free LSC-wiring system to design efficient and space-saving control cabinets. It also profits from the high level of flexibility and short response times.
The dosing piston is driven via a servomotor, in which a spindle converts the rotation into a linear movement thereby moving the steel piston. The dosing head is equipped with a back-suction effect that prevents soiling of the discharge point. The dosing and mixing takes place directly at the application point ensuring a high level of dosing and repetition precision.
Patrick Büsser – LÜTZE Switzerland
Photo: Hilger u. Kern / Dopag Gruppe