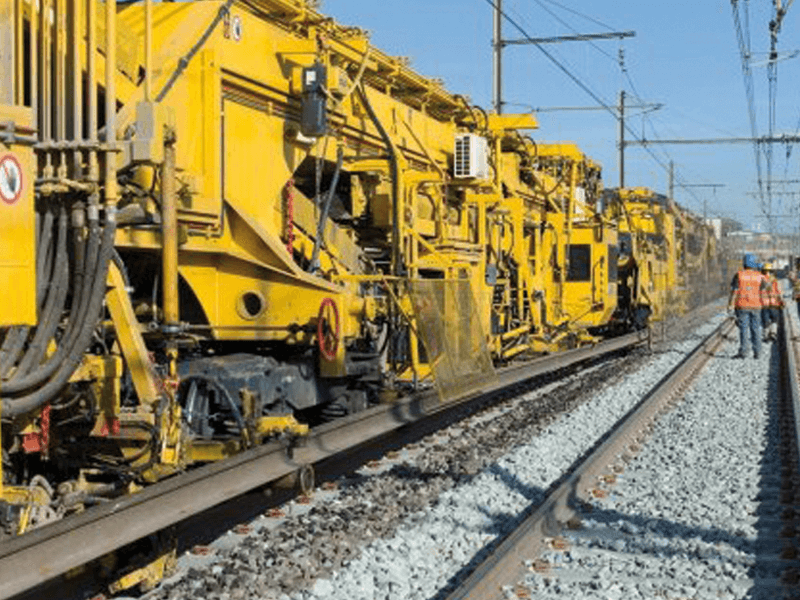 Cable and valve connections for non-stop train
Product range:
Cable
Connectivity
Control
Avenir-Group International is an engineering office for automation, robot technology, control systems and industrial IT. The company has a workforce of around 130 and is located in northern France. It is responsible for optimising automatic, new or overhauled systems in all industrial sectors. In 2013 LÜTZE France was approached with an enquiry for a special project to improve a machine used to replace railway tracks. This machine is several hundred metres long and simultaneously extracts the ballast, replaces the sleepers, installs new tracks and replaces the ballast again. The machine is fully automatic and has storage spaces for the sleepers, tracks and all other accessories. The train never stops and processes up to 1500 metres every day, in contrast to conventional machines that only manage up to 250 m a day.
As LÜTZE France was involved in the project right from day one, it was able to provide its partner, the Avenir Group, with in-depth help for numerous problems. The first challenge was the reduction in vehicle downtimes, and a reduction in the repair and subsequent waiting times. Also to keep the inspection time, which is carried out each time the vehicle is used, as short as possible. A standard module casing, equipped with M12 openings in the separator walls, was quickly adopted as the preferred solution.
Space was a further issue that needed to be addressed. As a result, small control cabinets with decentral input / output stations were installed to control the solenoid valves and detectors. A final goal was to ensure resilience to vibrations. LÜTZE recommended spring-loaded terminals for all connections. Finally, all special environmental conditions prevailing in and around the tracks had also to be taken into consideration. For instance, the temperatures in winter in some regions drops below -15 °C, and the products also need to be oil-resistant. This is why the LÜTZE SILFLEX PUR cables were an obvious choice. Thanks to LÜTZE's very broad product range, and the high availability of cables, all the customer's demands were met very quickly. Initially, there was a test phase to validate the products, which satisfied all defined conditions. In total, over 1000 x M12 openings in the separator walls, 500 x M12 cable harnesses and valve sockets, and over 4000 metres of cable were required to retrofit the vehicle.
Thanks to the latest LÜTZE product developments in terms of plug connectors, cable technology and the many new solutions for the LÜTZE switching power supplies DC 24 V and the electronic LOCC-Box load monitoring, other different projects in the food sector are now in the pipeline.
Raphaël Rossi – LÜTZE Frankreich