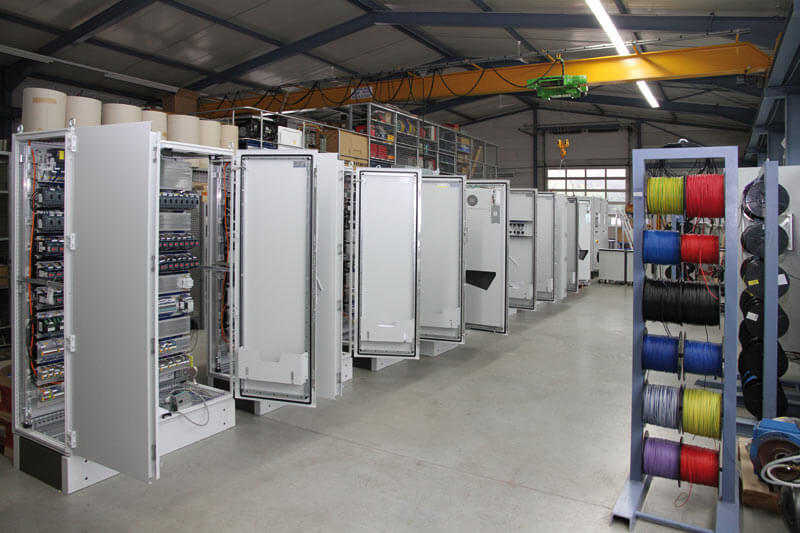 Automation solutions provided by LSC wiring systems
SPANGLER is the specialist for developing automation solutions for different sectors and industries based throughout the world. The medium-sized family company based in the town of Töging in the Altmühltal region of Bavaria currently employs 114 workers and has been a reliable partner of the international machine and plant engineering industry for the last 30 years. More than 50 % of the systems produced by SPANGLER are exported. Customers from a variety of industries including environmental technology, agriculture, construction, automobile, raw materials and the pharmaceutical industry rely on the quality of SPANGLER Automation. Successful project examples include the control management systems for grain drying systems in Rumania, water treatment facilities in the United Arab Emirates or food production plants in Germany.
All of these projects share the common feature of the engineering expertise of SPANGLER employees. They are constantly developing solutions to meet the complex challenges of their customers: one example is a customer from the automotive industry for whom the company manufactured a total of eleven floor-standing cabinets with the help of the LSC wiring system from LÜTZE.
"One special feature of the LSC wiring system is that the cables are not routed through a cable duct but are fixed in wiring strips and are routed at the back of the frame using brackets", explains Josef Mauderer, Head of the Technology Department at SPANGLER. He describes this type of cable routing as efficient and is relieved that it is not necessary during planning to consider the cable ducts, their efficiency and the associated heat emission levels.
The Production Manager at SPANGLER, Martin Neumaier, explains "Instead of the standard assembly panel, we used a modularly designed LÜTZE LSC frame". Prior to production start, the relevant employees at SPANGLER were trained by a LÜTZE representative in how the LSC wiring system functions. The wiring of the new system was completed in a matter of no time.
Helmut Graspointner, CEO of SPANGLER: "I was left with an excellent impression of the LÜTZE LSC wiring system".
The LÜTZE LSC wiring system was implemented on a project of the vehicle manufacturer Volkswagen Commercial Vehicles in Hanover. The required switch and control system comprising 11 enclosure fields was installed, wired, tested and
shipped within 3 weeks.
The switch system is used to automate an unloading magazine that transports either the painted hollow bodies of the Porsche Panamera or the Amarok Pickup (that will also be produced at the plant in Hanover from mid-2012) from the cavity sealing process to either the railway loading point or to the assembly line.
Tina Lambert, SPANGLER GMBH