Product Finder

751322 - Microcompact analog/limit value switch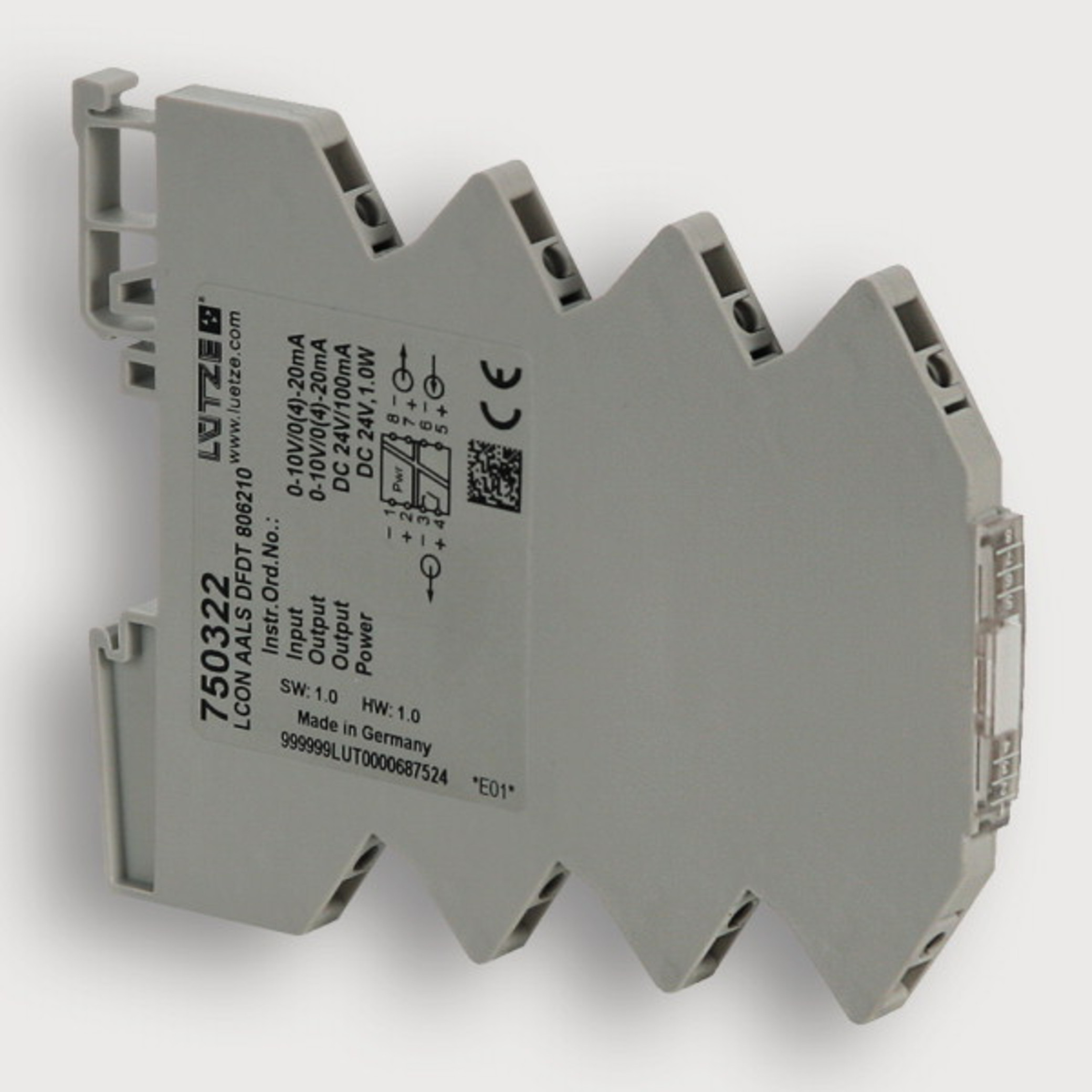 751322 - Microcompact analog/limit value switch
Type
LCON AALS DFDT 806211
Microcompact analog/limit value switch
Description
Input/output: 0–10 V, 0–20 mA, 4–20 mA, 2–10 mA, 0–5 V, 1–5 V, 2–10 V adjustable
Output: switching transistor DC 30 V/100 mA adjustable (LiveZero)
Insulation: 2.5 kV, 4-way isolation
Technical Data
Input
Input variable
Analogue signals
Measurement input
0–10 V, 0–5 V, 1–5 V, 2–10 V, 0–20 mA, 4–20 mA, 2–10 mA
adjustable via software FDT/DTM, connection via micro USB
Galvanic isolation I/O
4-way isolation
Delay ON/OFF
5 ms–650 ms (adjustable by means of filter stage 1–5, default: 150 ms)
Step response (10–90%)
10 ms–800 ms (adjustable by means of filter stage 1–5, default: 150 ms)
Parameterisation
Software FDT/DTM
DIP switch
Zero /Span
freely adjustable
Input resistance
>500 k
Ω
@ 0–10 V, 0–5 V, 1–5 V, 2–10 V, <100
Ω
@ 0–20 mA, 4–20 mA, 2–10 mA
Output
Output signal
0–10 V, 0–5 V, 1–5 V, 2–10 V, 0–20 mA, 4–20 mA, 2–10 mA, adjustable via software FDT/DTM, connection via micro USB
Contact type
Switching transistor
not short-circuit proof
Max. switching voltage
DC 30 V
Max. switching current
DC 100 mA
Max. load impedance at I-output
400
Ω
@ 0–20 mA, 4–20 mA, 2–10 mA
Min. load impedance at U-output
2 k
Ω
@ 0–10 V, 0–5 V, 1–5 V, 2–10 V
Limitation for exceeding measurement range
yes, switchable
max. modulation range/output signal/output current
10.5 V @ 0–10 V, 0–5 V, 1–5 V, 2–10 V
21 mA @ 0–20 mA, 4–20 mA, 2–10 mA
Status display output
LED yellow
Operating mode
Limit value, timeframe, tendency+, tendency-, tendency+/-, inversion, error memory
LiveZero
can be activated via switch and FDT/DTM
Residual ripple
<20 mVeff
Parameterisation
Software FDT/DTM
DIP switch
Operating data
Accuracy
0.1 % FSR @ 23 °C
Linearity error
±0.1 % FSR
General
Operation voltage range
16.8–30 V
Status indication
LED green/red
Input/output protection
Overvoltage, current input with PTC fuse, short circuit-proof output
Temperature error
<100 ppm/K FSR
Insulation voltage input / output
2.5 kVeff
Configuration
Software: FDT / DTM
Housing material
PA 6.6 (UL 94 V-0)
Color of the housing
light grey
Mounting
DIN rail mountable TS35
(EN 60715)
Installation position
any
Connection type
Spring terminal
0.14 mm2 – 1.5 mm2
Operation temperature range
-40 °C … +70 °C
Storage temperature range
-40°C…85°C
Dimensions (w × h × d)
6,2×90×115 mm
Certifications
cULus (E135145) in preparation
Cl.1 Div2, Gr. A, B, C, D, T4A (E319134) in preparation
GL
Failure Rate Prediction (MTBF)
Standards
Electronic components – Reliability – Reference conditions for failure rates and stress models for conversion: EN/IEC 61709
Failure Rates of Components – Expected values: SN 29500
Failure rate at +45 °C
598 fit
Failure rate at +45 °C
1671386 h
1 fit equals one failure per 109 component hours
The indicated temperature is the mean component ambient temperature.
Comments
The results are valid under following conditions:
Automotive environment or industrial areas without extreme dust levels and harmful substances
Continuous operation 8760 h per year
Comments
NOTE: The device can be configured using the DIP switches on the side or using the accessory LCON ZB service cable (Item no. 750894).