Path-breaking thermal concept for control cabinets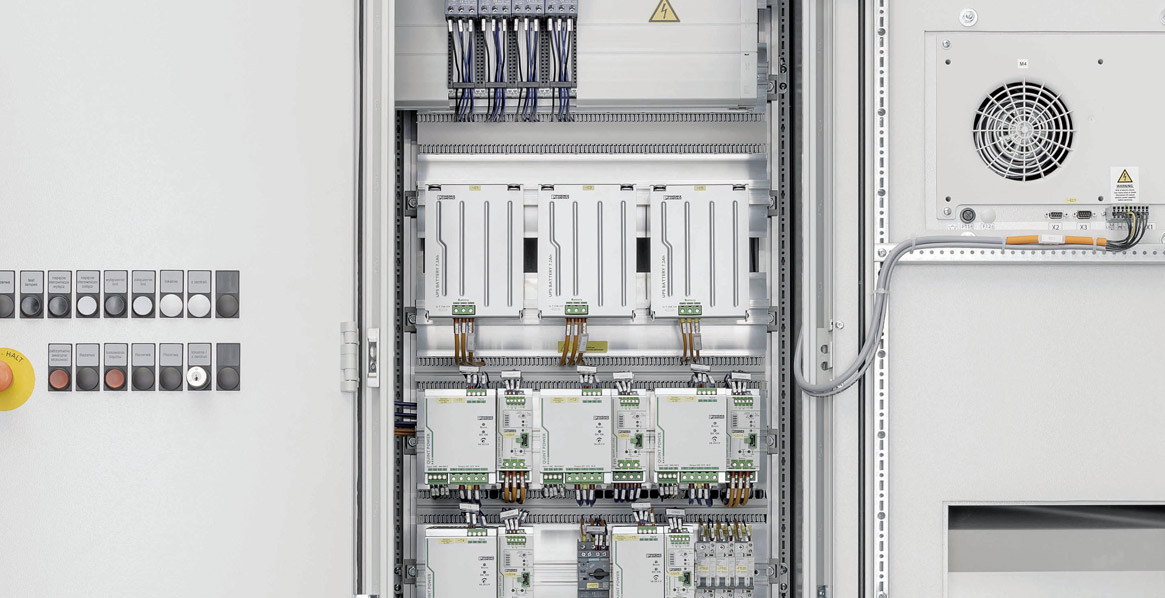 April 13, 2017
Path-breaking thermal concept for control cabinets
General system AirSTREAM
LÜTZE has turned the control cabinet AirSTREAM into a highly efficient full range program.
Components and power electronics are becoming increasingly smaller and more efficient, and therefore more parts are being fitted into tighter spaces. However, because the thermal loss dissipation is not reduced to the same extent, the heat generated in the control cabinet grows steadily. LÜTZE's AirSTREAM is just the answer you need. Thanks to 'intelligent air control' and the AirBLOWER fan system, hotspots are prevented and the climate in the control cabinet is also balanced out – energy savings of up to 23% can be achieved for control cabinet cooling.
LÜTZE engineers have come up with highly efficient instruments, software tools and intelligent accessories for planning control cabinets and thermal simulations. For instance, the AirTEMP thermal analysis tool can be used to detect thermal problems and overheated parts as a result of the wiring method, equipment distribution and arrangement, and cooling type from the outset. Now nothing stands in the way of higher energy efficiency in the control cabinet, with fewer machine downtimes and a longer service life of the electronic parts.
LÜTZE's AirSTREAM is a full system comprising a wiring system, configurator and online tool for thermal optimisation of existing and planned control cabinet fittings; it ranges from problem analysis through to the configuration and optimisation of control cabinets.
Problem analysis
Be it hotspots, cold shorts and an unbalanced climate in the control cabinet or high power costs resulting from an over-sized air conditioning system - the LÜTZE AirSTREAM tools allow efficient solutions to be developed.
AirTEMP thermal simulation
The AirTEMP application allows a differentiated thermodynamic analysis of a control cabinet with a mounting plate or AirSTREAM wiring frame. It can be used to determine, quickly and easily, which temperatures and temperature layers can develop in a control cabinet depending on the wiring type and cooling system.
Optimization
Based on the data from the thermal insulation, a thermally-improved arrangement of the components, part compactness and positioning can be realised.
Homogenised climate inside the control cabinet
With the principle of intelligent air guidance, LÜTZE is one of the technical pioneers with regards to control cabinet air conditioning. The LÜTZE AirSTREAM control cabinet system in combination with the AirBLADES allows for the targeted guidance of the air flows within the control cabinet, and also optimises air circulation inside the cabinet. The new LÜTZE AirBlower balances out the air layers in the control cabinet and achieves optimum heat dissipation.
Control cabinet planning
You can use the free-of-charge AirSTREAM online configurator to configure an AirSTREAM wiring frame in five steps. The intuitive operation, numerous help features and predefined standard settings make the configuration child's play. Also, the LÜTZE AirSTREAM wiring system is now available in the EPLAN Data Portal. This further simplifies and accelerates the engineering of all AirSTREAM standard modules significantly.

Number of characters: 3,212
Press contact
Wolfram Hofelich
Friedrich Lütze GmbH
Bruckwiesenstr. 17-19
71384 Weinstadt, Germany
info

(at)

luetze.de
Tel +49 7151 6053-0
Fax +49 7151 6053-277
Press download