Industrial Ethernet at its best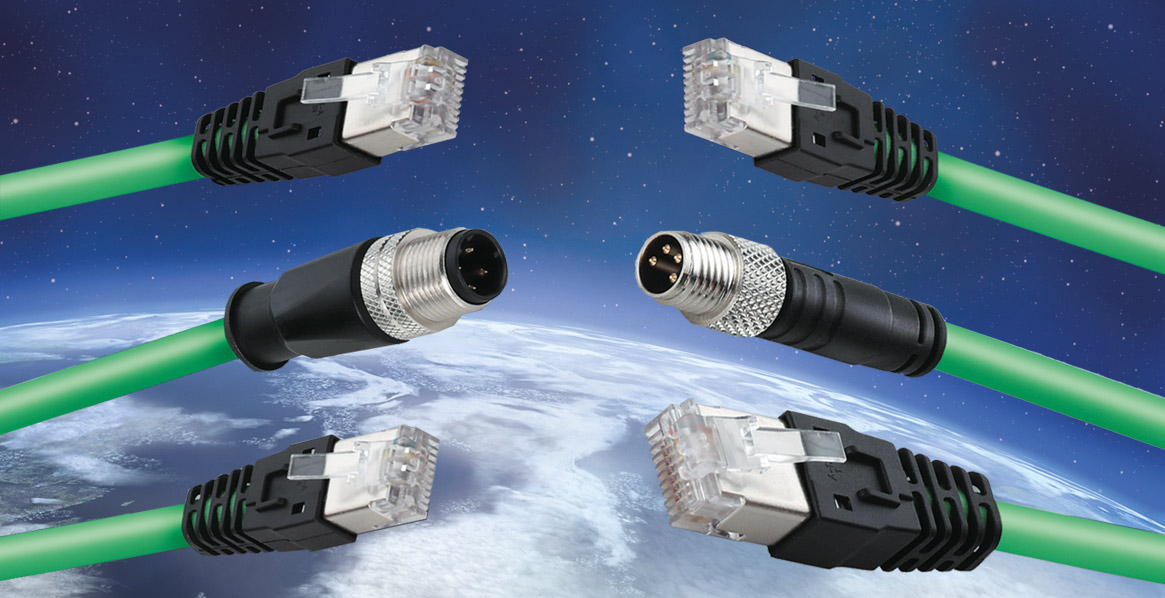 March 09, 2017
Industrial Ethernet at its best
Pre-fabricated network cables
The automation specialists at LÜTZE, Weinstadt, are expanding their portfolio of pre-fabricated SUPERFLEX network cables, including connectors, for a wide range of Industrial Ethernet applications.
LÜTZE is continuously expanding its portfolio of pre-fabricated network cables to meet the growing field of Profinet, Ethernet and EtherCAT applications. The automation specialists from Weinstadt supply all network cables either with a PUR jacket for C-tracks or in a PVC version for permanent installations or normal applications. The pre-fabricated LÜTZE SUPERFLEX cables are available with an RJ45 or alternatively with an M12 connector. All M12 connectors are equipped with a vibration protection element. The LÜTZE SUPERFLEX pre-fabricated cables are available from stock in six different lengths ranging from 0.3 to 5 metres. Individual lengths can be supplied for orders in excess of 20 units.
LÜTZE has a number of new cable models for PROFINET and Ethernet applications. Either with a PUR jacket for C-tracks or in a PVC version for permanent installations. The jacket is green. M12 or RJ45 connectors on both ends, or mixed versions with one open end are available.
LÜTZE has a C-track PUR SUPERFLEX cable in the programme for EtherCAT. The EtherCAT cable is supplied with an RJ45 connector and M 8 connector.

LÜTZE weitet sein Angebot konfektionierter Netzwerkleitungen für den stetig wachsenden Bereich der Profinet-, Ethernet- und EtherCAT-Anwendungen kontinuierlich aus. Der Automationsspezialist aus Weinstadt bietet alle Netzwerkleitungen entweder schleppkettentauglich mit PUR-Mantel oder für die feste Verlegung bzw. für normal bewegte Anwendungen in PVC-Ausführung an. Die konfektionierten LÜTZE SUPERFLEX Leitungen gibt es mit RJ45- oder alternativ mit M12 Stecker. Alle M12 Stecker sind mit einer Rüttelsicherung ausgerüstet. Die LÜTZE SUPERFLEX Leitungskonfektionen sind ab Lager in sechs unterschiedlichen Längenvarianten von 0,3 bis 5 Meter lieferbar. Bei Bestellmengen ab 20 Stück sind kundenindividuelle Längen möglich.
Für PROFINET-und Ethernet Anwendungen bietet LÜTZE eine Vielzahl von neuen Kabelvarianten an. Entweder als schleppkettentaugliche PUR-Leitung oder zur festen Verlegung mit PVC-Mantel. Die Mantelfarbe ist jeweils grün. Als Stecker-Varianten sind M12 bzw. RJ45 Stecker an beiden Enden, gemischt sowie Ausführungen mit einem offenen Ende erhältlich.
Für EtherCAT hat LÜTZE eine schleppkettengeeignete PUR SUPERFLEX Leitung im Programm. Die EtherCAT Leitung wird mit RJ45 Stecker und M 8 Stecker ausgeliefert.

Number of characters: 1,371
Press contact
Wolfram Hofelich
Friedrich Lütze GmbH
Bruckwiesenstr. 17-19
71384 Weinstadt, Germany
info

(at)

luetze.de
Tel +49 7151 6053-0
Fax +49 7151 6053-277
Press download