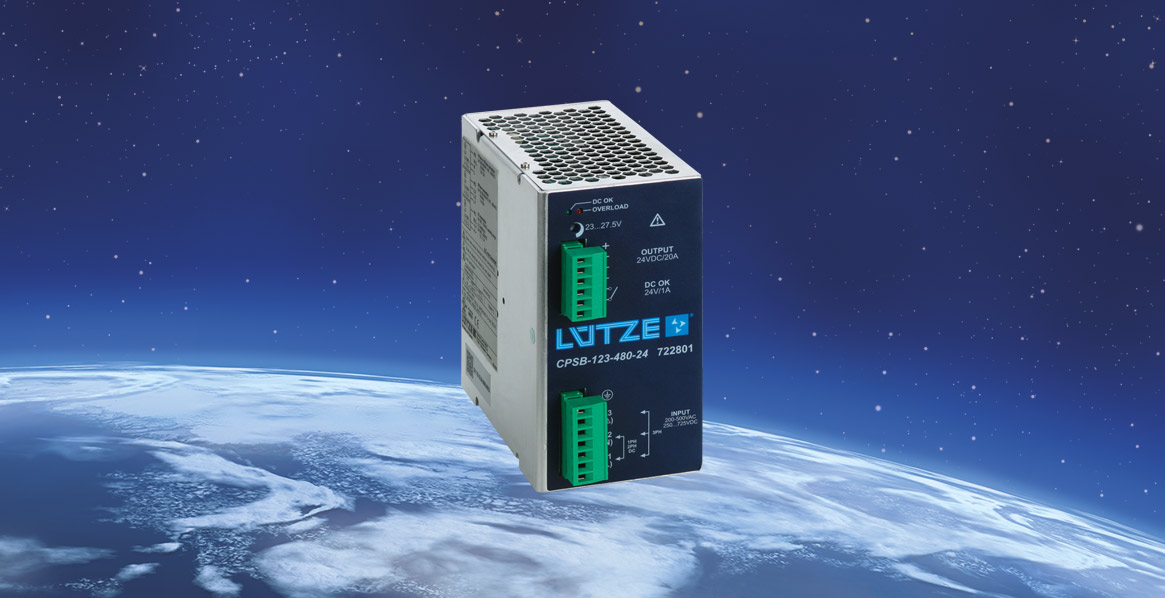 April 26, 2016
At home in many networks
LÜTZE has added an efficient multiphase DC 24 V switching power supply unit to its successful Compact series.
The new 20 A switching power supply unit expands LÜTZE's assortment of controlled power supplies for the one, two and three-phase power supply ranges. Operating voltage ranges of AC 200-500 Volt and DC 250-750 can be accommodated on the input side. In addition to the high level of efficiency >92 % combined with minimal losses and heat build-up, the new multiphase DC 24 V switching power supply unit stands out thanks to the fact that it is only 73 mm wide and weighs just 1 kg.
In addition to the all-phase mode, the device now also offers the possibility of adapting the overload behaviour to the application. Using switches, it is possible to select between Hicc-Up or current limitation. Of course, all units also have the proven Power Boost function of 150 % and can be operated in parallel to improve performance. The integrated status display DC-ON, DC-LOW indicates that the device is functioning correctly via a voltage-free contact. The LÜTZE switching power supply has natural air cooling and can be used within an operating temperature range of -20 °C to 60 °C (derating).
The multiphase LÜTZE switching power supply complies with protection class IP 20 (IEC529, EN60529) and satisfies various national and international standards: UL, cUL: UL 508C, IEC 950, EN 60950 CE: EN 61000-6-2, EN 61000-6-4, EN 55011 and EN 6100-4-2 CE: EN 61000-4-3/4//5/6/11.
The LÜTZE Compact series includes 1/2/3-phase units varying from 120 W-960 W and output voltages of DC 24 V, DC 48 V and DC 72 V.
Number of characters: 1,626
Press contact
Wolfram Hofelich
Friedrich Lütze GmbH
Bruckwiesenstr. 17-19
71384 Weinstadt, Germany
info

(at)

luetze.de
Tel +49 7151 6053-0
Fax +49 7151 6053-277
Press download