Innovationsallianz Green Carbody: Presentation of results for more energy-efficiency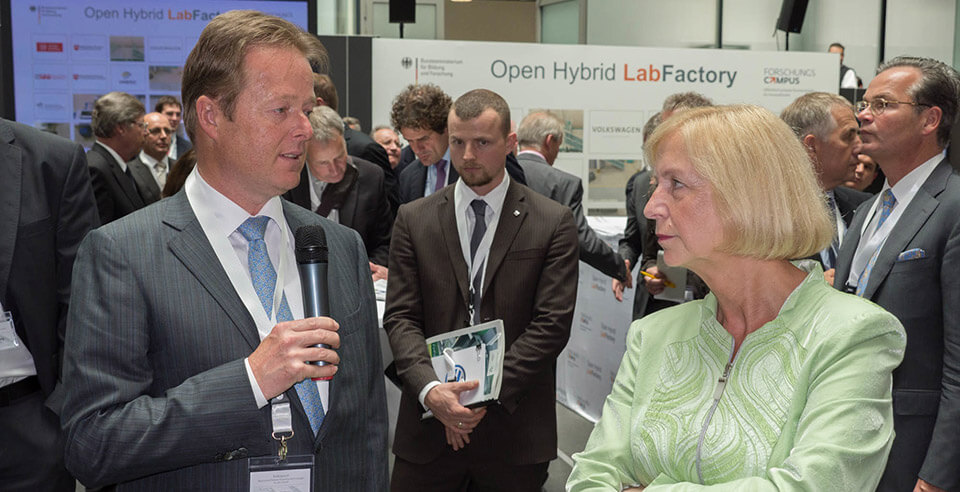 July 11, 2013
Innovationsallianz Green Carbody: Presentation of results for more energy-efficiency
Wolfsburg - numerous invited guests, including the German Federal Minister for Education and Research, Prof. Dr. Johanna Wanka, obtained information on the specific implementation of the research work undertaken during the presentation of selected sub-projects.
Udo LÜTZE, CEO of the LÜTZE Group and member of the steering committee of the Green Carbody Innovation Alliance presented the new LSC AirSTREAM for the energy-efficient design of the switch cabinet during the Innovation Alliance's closing event. As one of the results of the research work undertaken on saving energy in the automotive industry, the new LÜTZE wiring system offers numerous trend-setting advantages. These include the reduction of the usage of energy during switch cabinet cooling and the avoidance of hot spots in the switch cabinet - as well as the related increase in the service life of the components.
In the conversation with Udo Lütze, the Federal Minister for Research, Prof. Wanka, emphasised the need to expand the collaboration between medium-size enterprises and research; she was also very interested in sub-project 4.2.1 "Energy and cost efficient air-conditioning in bodyshell assembly".
Number of characters: 1,562
Press contact
Wolfram Hofelich
Friedrich Lütze GmbH
Bruckwiesenstr. 17-19
71384 Weinstadt, Germany
info

(at)

luetze.de
Tel +49 7151 6053-0
Fax +49 7151 6053-277
Press download